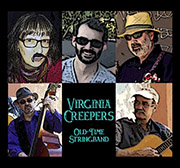 The Virginia Creepers love tunes and songs from Appalachia and beyond and have been playing old-time music in New Mexico for 30 years. Their repertoire includes weird, old, crooked tunes from exotic places like West Virginia and Kentucky, lively dance tunes that they play for squares and contras, and songs about hard times, trains, and whiskey, all ranging in age from the Civil War era and earlier to newer pieces in the old-time style. The band features Rick Olcott on guitar, Laurie Phillips on mandola, Jane Phillips on fiddle, Marc Robert on bass and banjo, and Michel Robert on fiddle. All of them sing now and then.

The band members have a combined total of over 150 years of musical experience. Based in Albuquerque, they play around NM and beyond for dances, parties, and festivals, and as soothing background music for the quiet and studious patrons of saloons and taverns.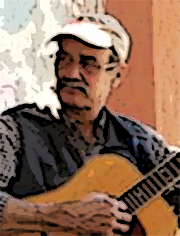 Rick Olcott: guitar
Rick Olcott, a founding member of the Creepers, has been playing guitar since the waning days of the Folk Scare of the 60's. His earliest musical memories are of his mother singing "I Ride an Old Paint" and "St. James Infirmary" while she drove him to kindergarten. His mom was a fan of Mahalia Jackson, Billie Holiday and Josh White and these influences perhaps account for Rick's somewhat histrionic approach to the blues. His dad favored the Big Band sound. Gene Krupa's influence can still be heard in Rick's frequent breaking of strings. Both of Rick's parents were fans of the Kingston Trio, the Brothers Four and several other folk groups of the early and mid-60's. As soon as Rick and his brother could strum chords on their guitars, they were encouraged to play and sing loud and strong, even if they didn't know the tune too well. This tradition continues. Rick and his brother Bo (who has played guitar with the Fast Peso Stringband in Santa Fe, NM for the last twenty years) made several futile attempts to start a rock and roll band in their teen years, but they just couldn't get the right sound out of those nylon strings. In 1990, Rick stumbled into an old-time jam sponsored by the New Mexico Folk Music and Dance Society where he met Steve and Scott.